I got lost down the rabbit hole last evening (aka websurfing) and stumbled across the cutest baby and hat I've ever seen.  The picture is from Cast on Cast Off (a U.K. blogger):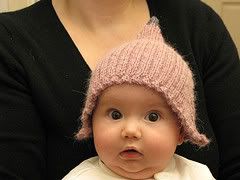 I mean, how cute is this lil one?
The pattern looks adorable on the above cutie and is called the  Baby Pixie Hat from Crystal Palace Yarns.  I have no one to knit this for (thank goodness)!
I have 12 inches on my sleeve: over half-way done!  Woo Hoo!
It is disconcerting to knit the pattern upside down as I cannot see the trees emerging.  I hope when I turn it around, it's correct!