Hi, remember me?  I'm Susan Rainey of The Rainey Sisters.  I share a blog with my sister, Sally.  We love to knit, talk about knitting, and share our passion for knitting with each other and our cyber-friends.  You would not know it from my recent lack of blogging, so I thought I would clue you in!
Fall is hitting us hard this evening — it may get down to 38 degrees tonight!  Fall means wearing sweaters so let's get out there and crank out a few sweaters, peeps!
Do you recall this lovely vintage garment?  It was knit by my mom many years ago.  I am trying to re-create the pattern.  I started this little fantasy project last year, but the sucker was too big.  Off it went into the "some day" bin.  Well, I dragged it back out recently.  It is a great mindless project — at least the basic stockinette part.  Not so mindless when I have to figure out the shaping and raglans, but that is down the road a piece.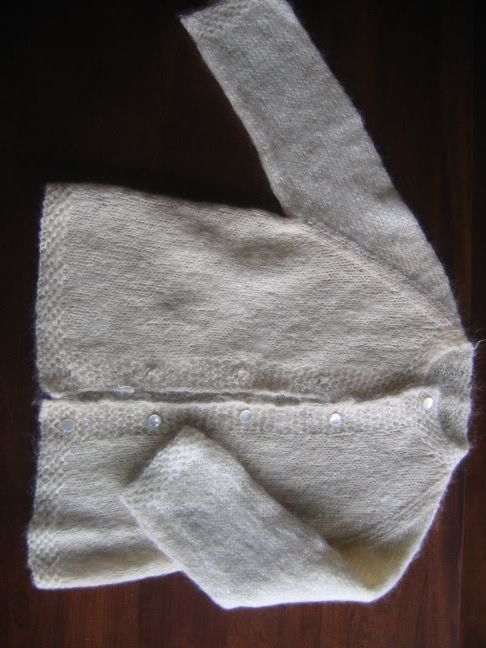 I am using Rowan Kidsilk Aura (75% kid mohair, 25% silk; 82 yds/25 gms).  It is the chunky version of Kidsilk Haze and it is fabulous!  Tres cher, aussi.  The color here is not accurate — it has a creamy beige undertone — a pinkish warmth.  I love it, love it, love it.  it needs to be knit at a fairly loose gauge to take advantage of its loft.  When knit too firmly, this color (Ivory 750) looks dirty.
This is probably closer to the true color:
I also want to share a gift with you.  I called my folks the other day and Dad was making homemade onion rings — my gawd, that sounded fantastic!  He sent me the recipe, and I tried them out.  These onion rings are the best I have ever had in my entire life.  They are truly daydream worthy!  I do not do a lot of frying and they make a total mess of your kitchen, but every once in a while, don't we deserve a sinfully decadent experience?  Dad says this batter works great on seafood, too.  M-m-m-m-m-m-m 😉 !