My Icarus Shawl is done.  I chose it for its beauty and simplicity, but its very simplicity made it a little boring to knit! I did have some fun adding beads a la Mimknits, except I used a crochet hook instead of fishing line.  Mim says that there is a risk of dropping a stitch and having the shawl unravel, but that is really not the case here.  If the bead is placed above a YO, which these are, the stitch cannot unravel.  It will stop at the yarnover and not go further.  I had no trouble using the crochet technique.
Beading
There are to my knowledge three ways to add beads while knitting.  Two require that you thread the beads onto your working yarn ahead of time, and one is done by pulling the stitch through the bead as you go.  These pics show the differences:
The following two methods require pre-threading the beads:
Bead placement occurs between two sts.  The fan effect is created by slipping an increasing number of beads in-between.  Beads are placed on both WS and RS rows —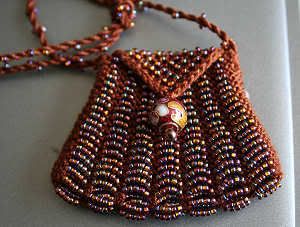 This pattern is available free: Beaded Amulet Bag Pattern
The next method is also done with slipped beads, but the bead is placed in front of the stitch, replacing the stitch so to speak.  The stitch is slipped as to purl with yarn in front, with the bead positioned on the short strand in front of the stitch: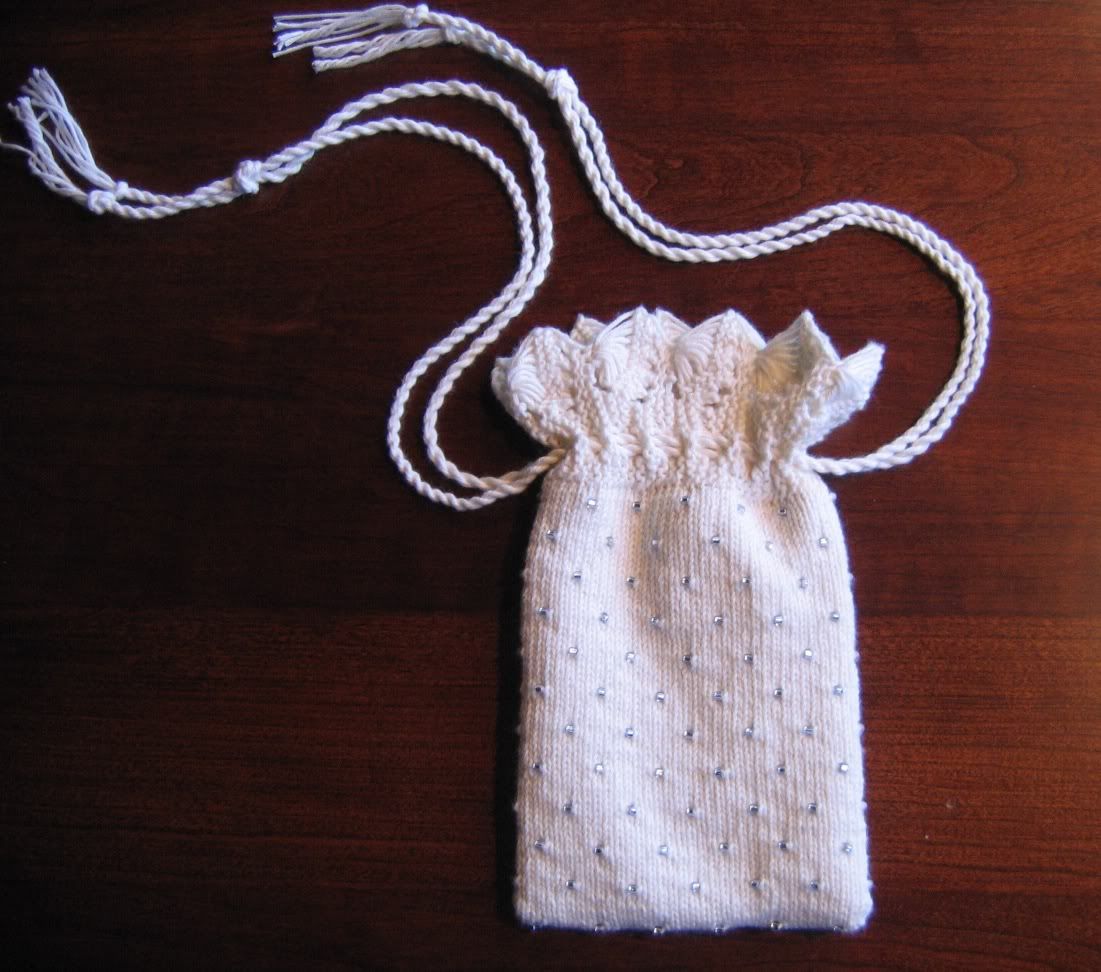 This pattern is available free: Beaded Wedding Purse
The last method is the one that Mimknits described above — pulling a stitch through the bead as you go.  Here is a picture of the beads and crochet hook that I used for Icarus.  I think my beads could have been quite a bit larger to have more visual impact:
Blocking
Anyone who has knit lace knows that blocking creates a miracle.  It transforms the lace from a blob to a thing of ethereal and breathtaking beauty.  While knitting lace, it is such an ugly duckling, I throw it on the floor, let the dog lay on it, roll it up and throw it in a corner…but once blocked, I treat it with such reverence!  It becomes a delicate crystal vase that must be carried and handled gingerly — at least for a while!
Here is pre-blocked Icarus:
The magic of Icarus lies not only in the expected miracle of lace blocking.  There is an intrinsic quality in this pattern that is not apparent as you are knitting it. The routine and repetitive pattern rows become something much, much more in the blocking.  Intricate shapes appear that were not there as you were knitting — really, they weren't!  For this reason, I highly recommend this pattern for someone's first lace shawl.  You get a lot of bang for your knitting buck!
Icarus being blocked:
The feathers really become feathers!  And now the shawl is something to love!
Sally wrote about her Icarus and included a wonderful poem (scroll down to read the poem).  So, now both Rainey Sisters have completed their mandatory Icarus Shawls. 😉