I am madly and passionately in love with this new arrival from Sweden!! OMG, it is the Bohus of my dreams — my Large Lace Collar Pullover (sweater on right).  I have wanted to make this particular Bohus since I first became aware of them (see Poems of Color to learn about Bohus knitting).  Instead I made Wild Apples (see Susan's Gallery) because the kit for the Large Collar did not have the quality of black yarn I would have liked.  When famous Wendy (of WendyKnits) started HERS (from a kit directly from Sweden), well I was smitten and bitten by the Bohus bug once again.  It was not difficult to get Sally on board, so soon TWO kits were winging their way across the Atlantic.  Both arrived today!  Woo Hoo! A side note from Sally: We've been asked where these kits can be ordered. You can find information here. We are both planning to make the black pullover. As much as I love my Blue Shimmer, and I do, this yarn from Sweden is much nicer in that the spinning and color are more consistent. There is a cream color in the kit, and that was especially noticeable when I compared it to the cream in my almost-finished Blue Shimmer.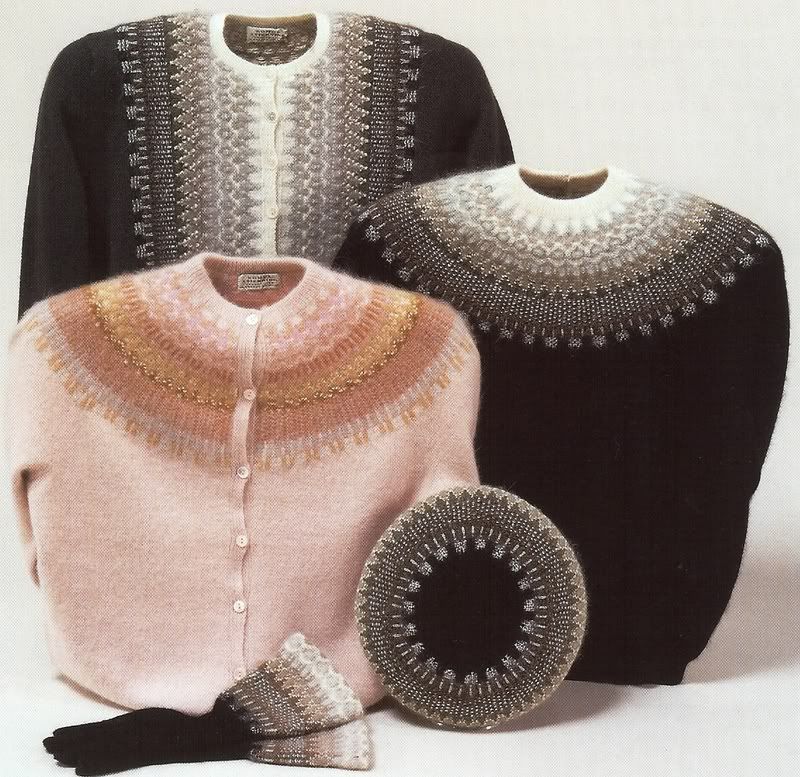 Here's the thing — we are not going to start them right away because we are involved with other projects and feel the need to get something done on them first.
For me, the 'other project' that I am committed to finishing (?) is Oregon…
Geez fair isle is slow!  I knit and knit and knit and get no where!  I got re-inspired to work on Oregon because I made it to  to a milestone: the sleeve steeks. 
I did run into a little snafu ala Marina.  The sleeves were not centered to the pattern and therefore the shoulders would be "off" when grafted together.  At first I thought, "If it's good enough for AS, it's good enough for me."  However, it really bugged me, especially when I took a look at it and the sleeve was only off by 4 sts.  So, I ripped out a few rounds to re-align the sleeves. 
Another advantage is that the sts go to the back, thus enlarging the sweater by two full inches — the extra inch that goes to the back and the extra inch I will need to add to the front bands to make the front match the back.  I need the extra width anyway because the sweater is a touch too small.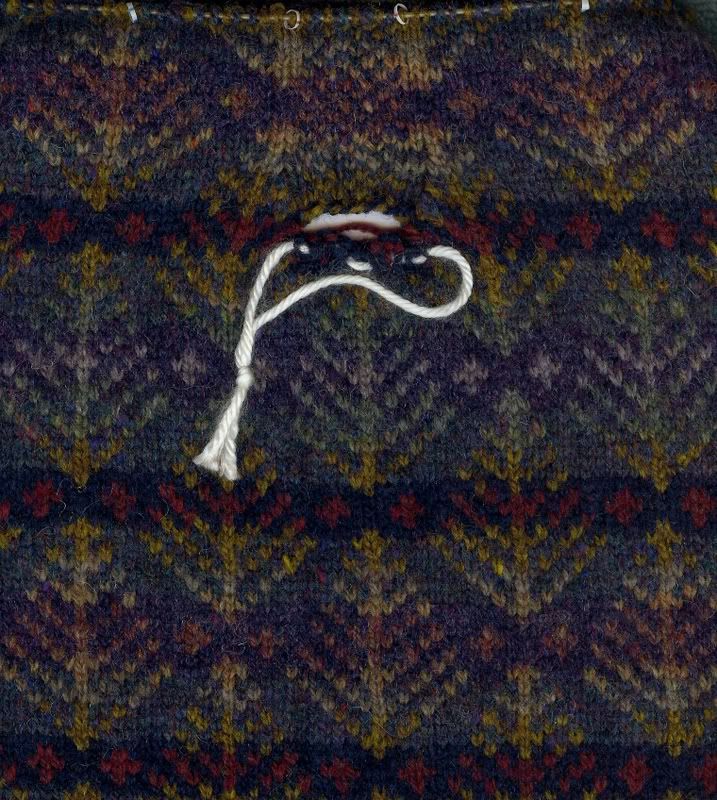 AS shaped the armhole slightly which you can see in the photo — I took off one additional stitch so that when I pick up the sleeves, I will end up with a perfect half tree just like the center front.
Sally reported that she is very nearly finished with the body of her Blue Shimmer.  She is also pining for the Large Lace Collar Bohus, but the siren song of her new Royal Alpaca is calling her ever so seductively.
So progress is being made, and projects are lining up.  Plus, I just got the flyer for the Minnesota Knitters Guild "Yarnover" event, which is April 21.  I am teaching the Beaded Amulet Bag class.  Yarnover is a great day of knitting and shopping at the vendors' market.
Knitting is grand!