I was overwhelmed by the outpouring of comments about my lil clogs.  They really are a nice, very practical project and would make great gifts. 
I finished the second one today and felted it right away.  Melanie  commented that she thought I was stupid brave to felt one clog at a time.  When I started felting the second one, I myself had "second" thoughts!  How will I get them to match???  They kind of do…..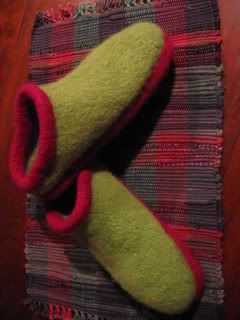 These are an extremely quick knit — you could make a pair in one day.  I used my bread and butter yarn: Cascade 220.  I love it for felting, and agree with Wendy O'C about the lack o'fuzz. 
Here is another case of
From now on, I will read directions. Really. I will.
I neglected to read the fine print in the pattern.  Just looking at the clogs, it seemed to me that it would take more of the lime green than the fuschia — au contraire, my friend!  The opposite is true!  But I bought 2 green and 1 fuschia mistakenly and did not figure it out until I got to the part in the pattern where it said to start the second sole.  Ruh roh!  The soles are double thick.  Anyway, it took me 4 skeins because I needed to buy another fuschia.  Here again, had I not felted the singleton, I could have done some fudging, but since I had to match the two, it became a fairly expensive pair of clogs!  Next time I will know better.
Thanks for all the great comments. 
PS — Don't forget to sign up for the contest!
PSS — In response to your questions:
Michelle asked about the Cascade 220 — I buy it at my LYS.  It's about $7 a skein for 220 yds (hence, the name ;)).  I don't really bother with on-line for that because it's so readily available.  The pattern is from Fiber Trends AC-33x.  It is also available everywhere.  There's even a class set up at my LYS for this very pattern. 
And look at how gorgeous these can be: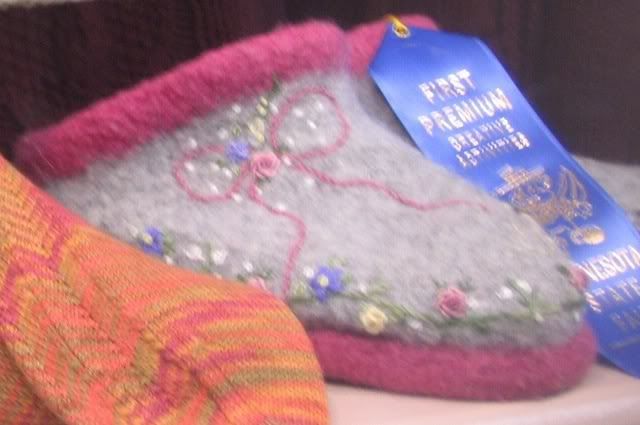 The picture's not great, but these were in the State Fair last summer next to my socks, which is why I have a picture.  They are so beautiful!  Sorry that I can't give you the knitter's name.  So, you can go wild with these and really make them special.  I don't think I'm up for that right now, but I am thinking ahead to Christmas and may make a pair or two for relatives.