I am definitely not enthralled by my cabled corners on Eris.  They started out okay — I was pleased with my short rows (after three tries!).  I used nonaKnits instructions, which are very nicely written and easy to follow.  Here is a picture of the back of my Japanese Short Rows:
Why is it so "hairy?"  I used thread instead of safety pins, because I couldn't find enough pins.  Anyway, I was happy with the way the short row shaping 'shaped up.'  I'm not so sure about the cabled corners.  The knitting seems coarse, like the yarn should be finer and knit to a tighter gauge.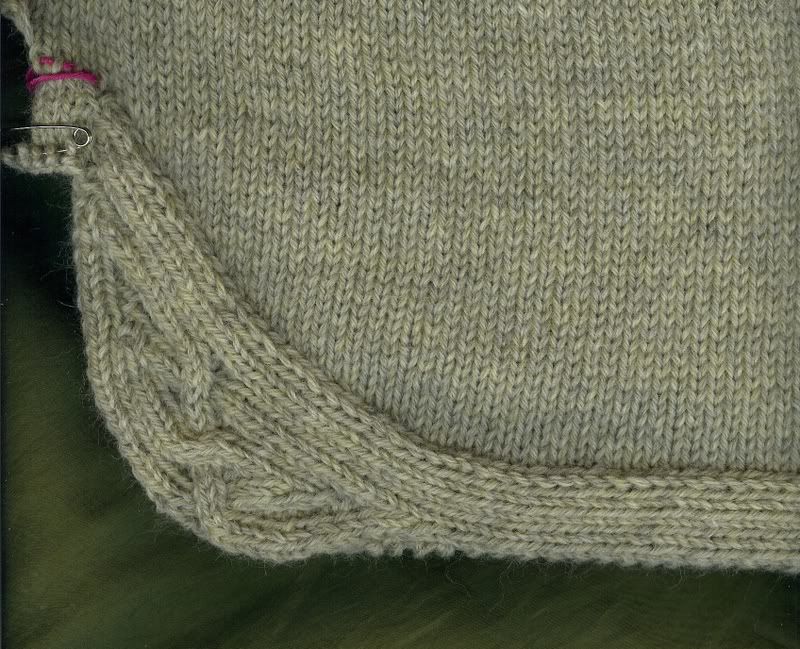 I still need to add my 5-stitch applied i-cord edging.  I prefer to do it afterward so it is smoother and I can adjust it to fit.  I found with the Rogue Hoodie that I preferred doing the i-cord edge after (click here for picture).  I also realized that I should have done the front corners first because the front edging needs to overlap the back and mine is set up wrong — oops.  Not to worry!  I'll fudge with grafting.
I continued onward and completed the I-cord edging across the lower back hem: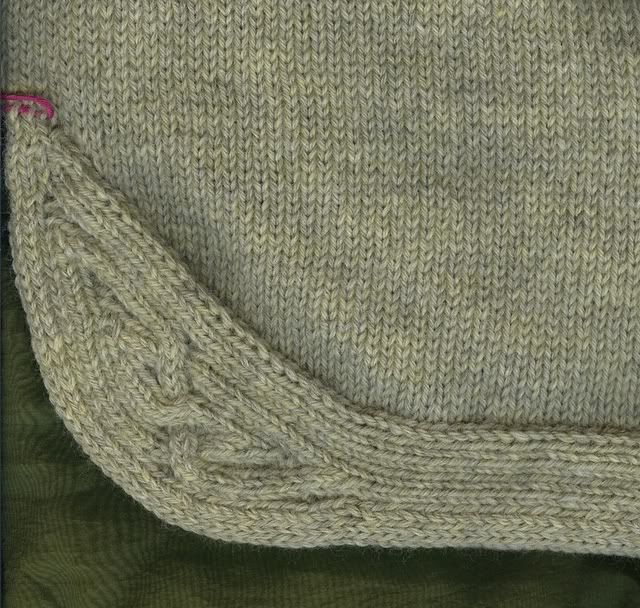 And the hem as a whole — albeit, a bit washed out in color: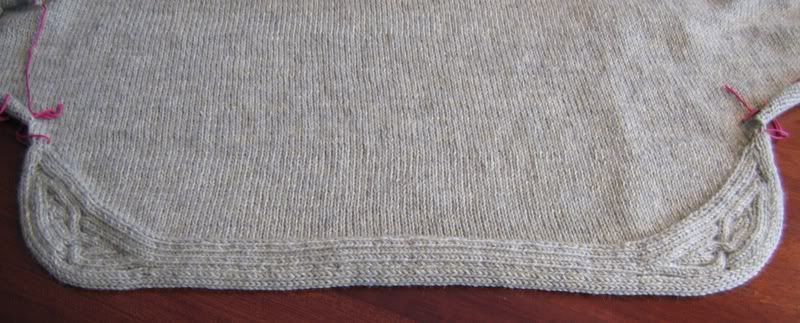 I'm still not sure what I think about this project.  The hem wants to roll in a funny way.  I did a light steam before I picked up my edge sts but it still rolls.  I hope that wet blocking solves the problem — wet blocking certainly cures a lot of what ails my knitting 😉 ! 
PS — I completed the shirt-tail hem shaping on the right front and then tried the lil puppy on — I realized that in an effort to de-emphasize my tummy, I am now emphasizing my fat ass hips!!  Ruh roh! 🙁