What — my silk, of course!  I have decided to give my beautiful silk one last another chance.  I was thinking of trying the Diagonal Triangle Tank but felt a bit discouraged after reading about Gale's fiasco.  Many of her issues were with the yarn itself (Regal Silk), but a number of the problems had to do with the pattern, the fit and basic construction. 
I stumbled on this Vittadini pattern (I say that as if the magazine was on my front step and I tripped over it when I went out to get the paper — actually I "stumbled upon it" at a yarn store 🙂 ).  I thought it had some of the same cute design elements as the Diagonal Tank, but with fewer potential fit problems and the ability to adjust the size easily.  We shall see, n'est-ce pas?
Mine won't be as snug fitting, but I think this would look gorgeous under a linen shirt.  I'll give it a go.  This will be my take-along project as Eris is mere hours from being done and far too big to haul around easily.
Stephanie, the winner of a copy of my "Lace Tam and Scarf" pattern and 2 skeins of Rowan Silk Wool DK, posted a progress picture of the tam.  Way to go, Steph!  It's looking good.  Let us know when it's finished.
The yarn gods are teasing me and did not allow my Peacock yarn to arrive today.  I actually think they are testing my resolve — will Susan maintain her excitement and enthusiasm for the Peacock Shawl even if days pass, allowing her fervor to cool?  I laugh at the yarn gods, I laugh in their smug faces!  I shall maintain my resolve, assuming that nothing else intervenes in the next couple of days — and where the heck is my yarn!??!!
PS: I do believe, I do believe — in global warming…despite this evidence to the contrary!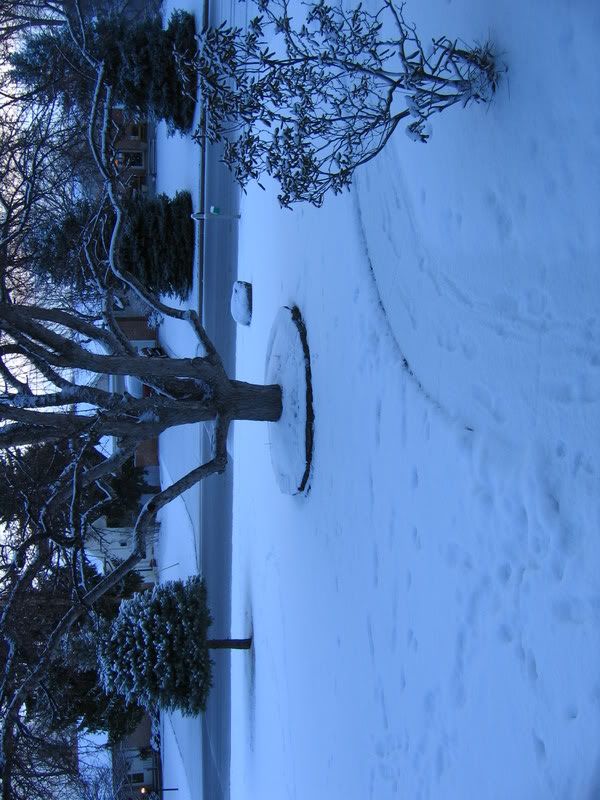 April in Minnesota — ahhhhhhhhh!! 
PS to LimeDragon — The Vittadini Pattern is called Nicole 1 and is from Issue 27.