Eris is wonderful and I don't mind saying so. I made a sweater that fits like it was made for me :). Yes, they ALL are, but in fact, only some actually do ;).
All of my trepidation went out the window post blocking.  It is a thing of wonderment — when all the variables came together in the right way.  One small problem: The sleeves are about 1-2″ too long, but that is totally easy to fix with top down sleeves!  I was also pleased that there is very little evidence of 'rowing,' which often happens with back-and-forth stockinette stitch.  [Rowing occurs when one's purl row gauge is slightly larger than one's knit row gauge].
Now, here is the source of my pre-blocking angst: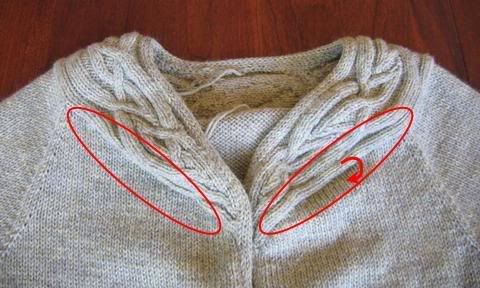 The place where the collar joins the body of the sweater rolled over funny.  I know that's pretty technical talk!  But it looked weird when I tried it on, and I was nervous it would not block out, but it did.  Woo Hoo!  Here it is after blocking, just flopped onto the table: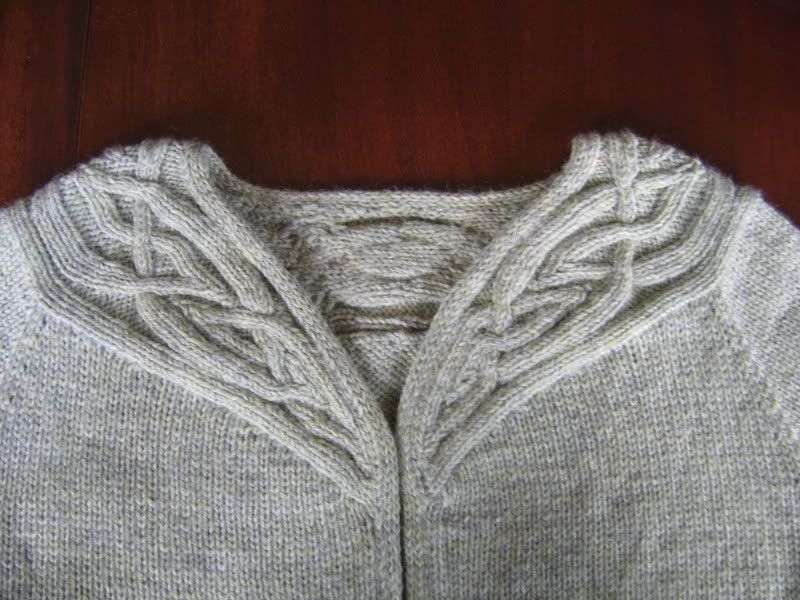 I think my short rows are better on the hem shaping — I had a bit more practice with my Japanese short rows by then.
The sweater fits great.  I will actually post a picture of me wearing it once I get the zipper sewn in.  In the meantime, here is Lucky Lettie, draped in the fantabulous Eris:

Yarn: Cascade 220, Color #9460
Needles: US 5's (cabling) and 6's (body)
Cost: about $60 (incl. pattern and zipper)!!!!!  It only took 7 skeins of yarn! (at least I think it took 7 — I bought a bag of ten skeins and three are untouched — not heavy mathematics there)
For those of you contemplating this pattern, I say go for it.  The pattern is extremely long, but it's no more knitting than an average sweater.  Jenna just provides too much a lot of detail.  It is not as forgiving as the Rogue Hoodie if you have gauge issues (because of the collar and hem cabling), but it can work.  The one thing I recommend is to do after-thought I-cord edging (using 5 sts) and for that all I did was omit the edge sts along the neck and hem edges. It took extra time, but I believe it was well worth it.  I did this on the hood of Rogue with very nice results.