I finished the ST cardigan.  With a notable exception — it is naked.  No buttons.  I bought buttons as planned on Friday, but after seeing the finished product, they just don't go.  For those of you who finish a cardigan from time to time, you already know that finding the right buttons is nearly impossible.  Even for a simple little project like this one. 
The other thing I did not do is block it.  I would have said last week that I ALWAYS block the individual pieces of a garment before sewing it together.  But, it did not seem worth the effort on this one, given the rustic texture of the knitting.  I normally would not "show off" my knitting when the sts are so uneven, but I'll blame it on the nubby yarn and lack of blocking!  I may wet block it after I figure out the button situation. 
After putting it together, it fits perfectly.  So, I am pleased!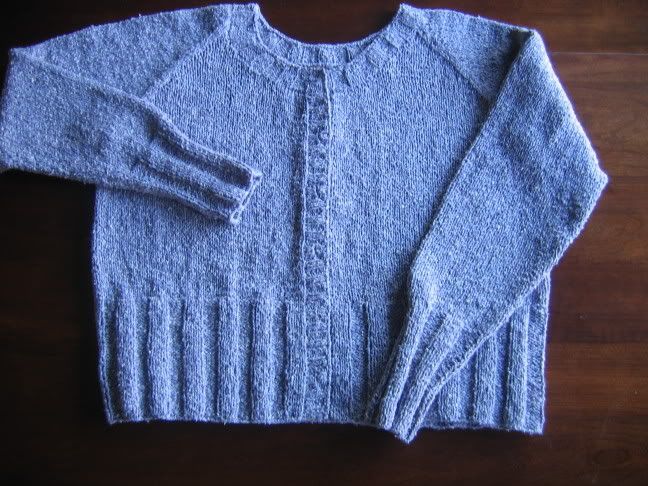 Here are some detail pictures:
This is a not great picture of the bottom edge of the button band.  I picked up the first st right into the cast on edge so that the bottom edge of the band would be even with the hem of the sweater.
Here is a close up of the side seam:
The great thing about even st ribbing (2×2, 4×4) is that it works great for mattress st seams.
This is the back neck. 
The neck shapings did not affect the change I made from set in sleeve to raglan.  The button patrol is now on duty. 
(Knitted in Rowan's Summer Tweed)