Youngest daughter is in a soccer tournament this weekend, which means endless hours of sitting, waiting, cheering, and Knitting!!  I always take along mindless knitting projects for these occasions — who can just sit??!!??
Anyway, Mitered Tote is the perfect soccer project, so it is going strong.  And I took along lil Lace Style Cardi today, as well:
I am liking this very much so far.  I love the yarn and love the color.  There is a small mistake in the pattern.  It says to do a long-tail cast on and then knit 4 rows.  If you do it that way, you will have 3 garter st ridges (you get one ridge from the cast on itself).  Three ridges at this gauge is a whopping 1 inch!  Too much.  In the pictures of the finished cardigan, there are clearly only 2 ridges = 2 rows of knitting before starting the pattern rows.  I opted out of both of these options and did a cable cast on and one knit row.  I prefer the tight bead of reverse stockinette at the bottom edge.
I also went back to "My Precious" for a bit this evening and made a little progress: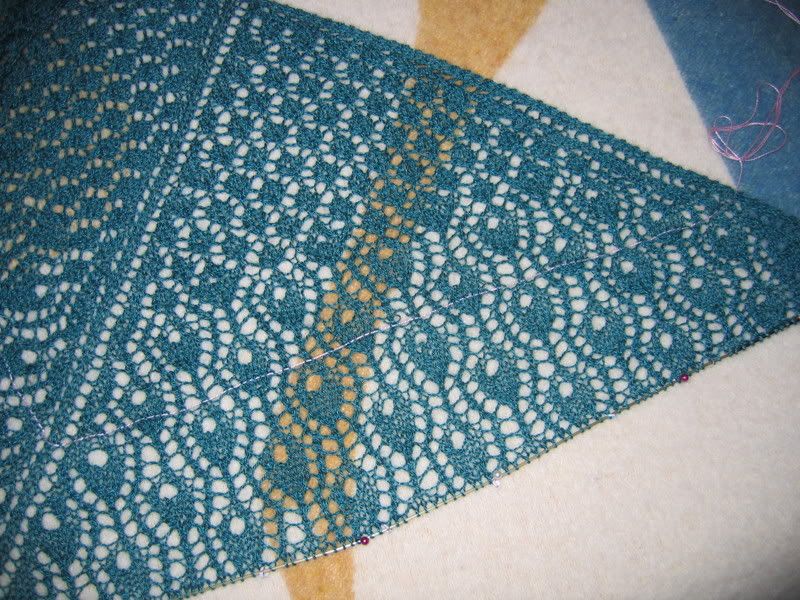 According to my "How Much Shawl Have I Knitted So Far" calculations, I am at a whopping 11%!!!!!  Not bad, and I don't see any glaring mistakes — whew!  I was asked how often I'll run a lifeline: I'm going to put one in at the end of every completed chart.
More knitting soccer tomorrow morning and if they win, another game in the afternoon…maybe Mitered will get felted this week!
PS to Marina: to add a lifeline, take a tapestry needle and thread it with a small, smooth yarn, thread, or cord.  I used leftover perle coton.  Thread it through all the sts on your needle, making sure not to go through the stitch markers.  For the Peacock Shawl, I am placing my lifeline through a RS pattern row, not the WS purl row.  It is easier to purl the sts with the lifeline through them than to work them as pattern sts.  I push all the sts back from the needle tips so they are on the center cord of the circular needle.  It only takes a few minutes.  See also: April 11 — Sally describes a lifeline and shows pictures :).