I feel like I have not posted in ages!  That's what I like about sharing this blog — one of the Raineys usually has something to say!
I have been knitting a bit on my Kauni Cardigan, but not too much.  I have not had a lot of knitting time lately.  Life gets in the way now and then. ;) 
I am done knitting up to the shoulders.  To recap, I decided to not do any neck shaping — it will all be done after the fact.  I am thinking "square" — I know: carrying the square motif throughout is not terribly imaginative, but…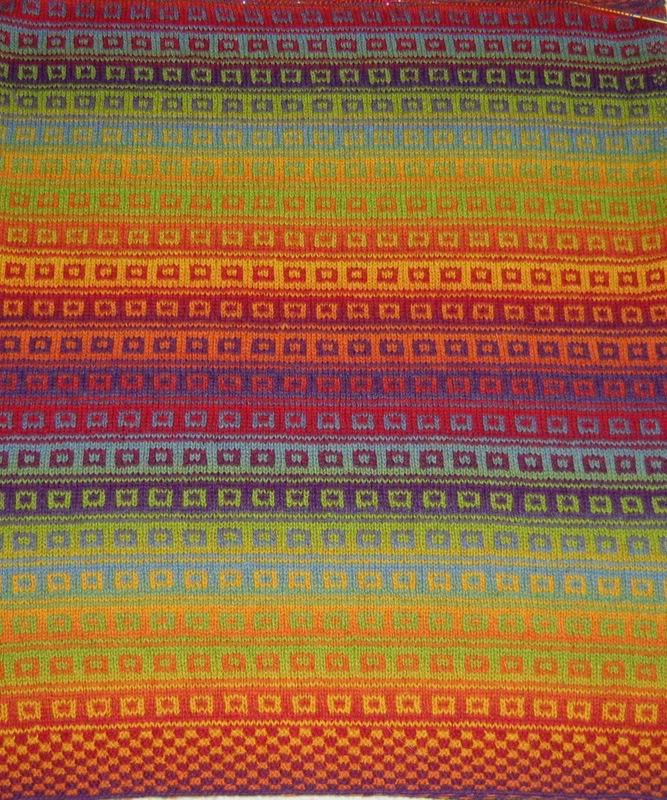 I am going to have a single line of squares at the shoulder rather than completing a full pattern repeat and having two of the same square patterns line up.  I will show this after I graft it together.  It will make more sense when I can include a picture (unfortunately, not a moving picture a la Surly!). 
The next step is to start one of the sleeves.  I will need to figure out where to start my colorway — I am starting at the cuffs so I can be sure of the color.  I do not want the cuffs to end up with real pale colors, so I'll control for that by starting at the cuff in the colors I want.
Tomorrow is Knit Night — we are meeting at the home of one of the peeps so it should be really fun!