I'm sorry, but unblocked lace is b*tt ugly!!  It just is!  Look at this blob — would you want it as a gift?  Would you want to knit it for yourself?
Blocking is certainly a help!  I decided to try using the bed in our guest room as a blocking surface.  The idea of crawling around on my decrepit hands and knees wore me out.  It worked quite well for this relatively small piece: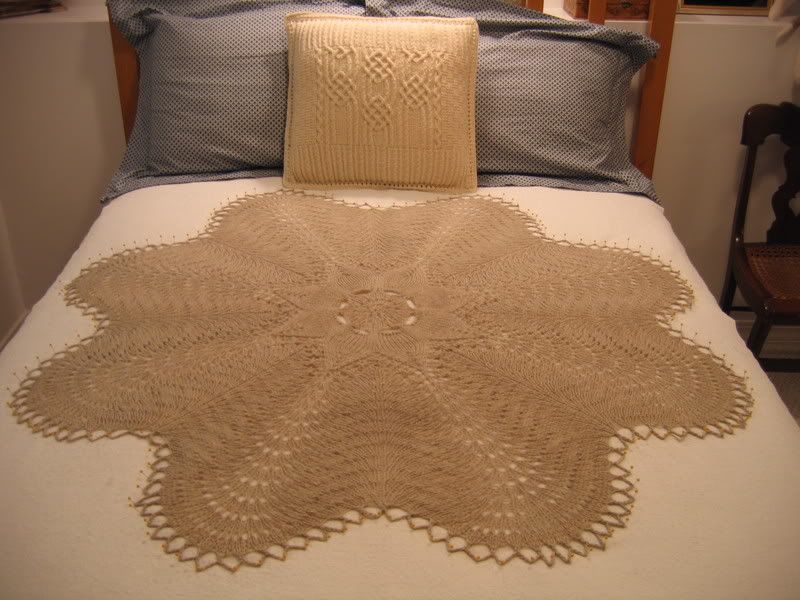 And see how Lettie is overseeing the blocking process?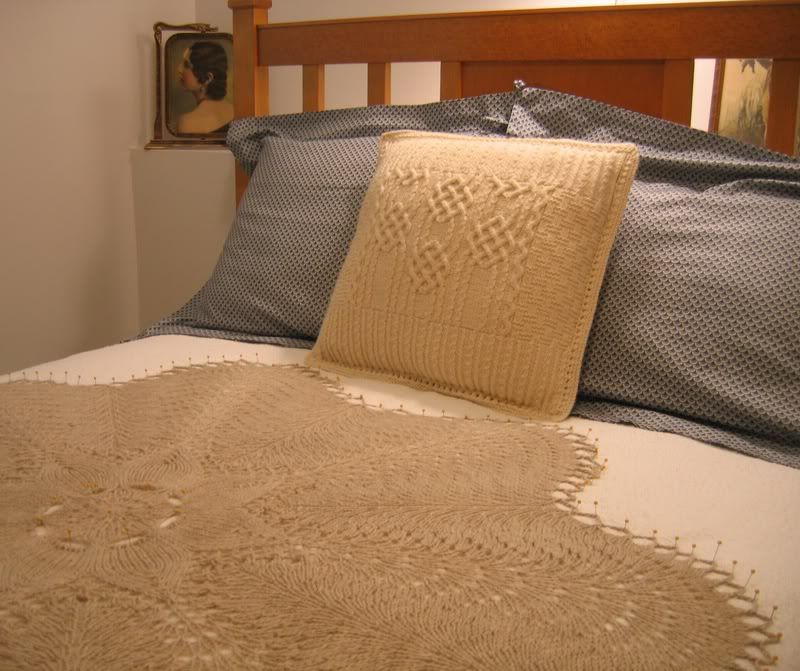 The knitted pillow is a former UFO that I made into a pillow.  It was a sweater that never got off the ground — it sat for years in a bag.  The back was at least 4 inches wider than the front, due to either my bad miscalculation (lots of cabling on the front, plain basketweave on the back — does the word "compensate" mean anything?) or a poorly written pattern.  It was so long ago I can't remember.  I grafted the ribbing from the back of the sweater to the top of the front for symmetry and length, and used the back as the back of the pillow.  So I got a pillow out of the deal, which is more than I can say about my other UFOs
.
I am going to give this Hemlock Ring to a dear muggle friend and make another immediately for another muggle friend.  We'll see if after making two I have the stamina to make a third for me.  They are two people that really do appreciate handknits and so I have made special things for them in the past.
Now I'm off to wind a skein for the second Hemlock.  By my reckoning, since the first one took a week to knit, the second should take at least 3-4 weeks?  Months?  If I want it for Christmas, there is no time to waste!
PS — I had quite a bit of yarn left over.  You could easily make this larger with just the two skeins.
In response to Susanne: I blocked my Hemlock Ring to a full 48-50″ HOWEVER, when I unpinned it, it snapped back to about 44″.  It also looks a little wonky, not crisp like Brooklyn Tweed's.  So, before I post finished pictures, I plan on repinning it and steaming the daylights out of it.  It may be a day or two before I feel motivated to repin the lil sucker!