Those are the needle sizes I've been switching between all weekend!  Wow!  It feels very strange but actually is a nice change up.  I knit for awhile on Lopi Cardigan and then switch to Lyra.
Here is the Lopi back drying.  I decided to block the pieces as I go.  I never do it this way, but I just felt like it this time.  I kind of wanted to see if the knitted fabric would soften up.
Here is a close up of the shoulder showing the Japanese Short Rows done on shoulder shaping:Â 
I rarely shape my shoulders.  I do not like shoulder seams (too bulky) and did not like the look of my previous short row technique.  I REALLY like Japanese Short Rows: easy and very invisible.  Now I can get shaped shoulders AND do a 3-needle bind off!  Woo Hoo 🙂
Here is the "Blob" in progress.  I have not forsaken Lyra!  I am now on Round 130-ish and still in love.  There are acres of stitches in each round so I plod away at a snail's pace.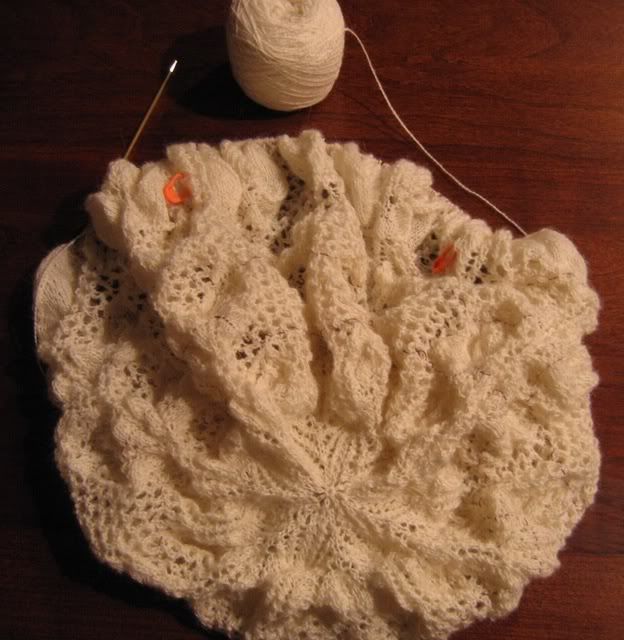 Here is a bit of pattern close up.  I really do need some longer needles…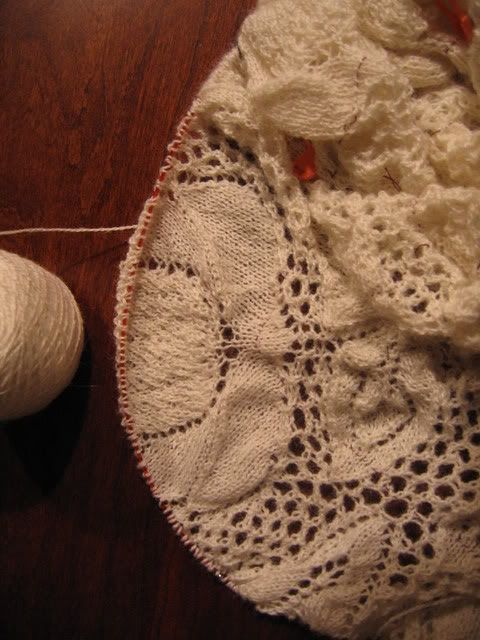 The more I knit on this, the more I appreciate the design and its ingenuity.  The flowers are sculpted in thread and air — positive and negative space.  It is really amazing.
I should finish the Lopi sweater in another week or so and then may work my second Kauni sleeve.  I have the need to get some things off my plate, and working on 'almost done' stuff is certainly a way to do that!
Rudolph Update:
Apparently, a few of you called Amazing Threads for the Rudy Pattern (they had to start a waiting list!).  CiD sent me a lovely thank you with a copy of this pattern — for Elfred, Rudolph's Sidekick:
 
AND
 

…this knitter's accessory bag: you put it around your neck so you can keep all of your knitting necessities close at hand.  Thanks, CiD!!
Well, Monday starts another week — hoping yours is great.
To Jess L. and others:
Remembering you this Veteran's Day. 
PS in response to question about Japanese Short Rows: I learned how to do them from Nonaknits – check out this link.