I am so amazed: I finished my Kauni Cardigan.  I'm not amazed by the finished Kauni — what amazed me was that I allowed myself to BE FINISHED with it! 
As I described to my knitting peeps on Thursday evening (at a wonderful Christmas soiree hosted by Mary!!), I had major Kauni concerns:
1) The sleeves were not going in as planned.  The seaming looked like crapola.  So I decided to pick up around the armholes and graft in the sleeves.  This step was completed this morning.  They did turn out looking better than the seams did.  I should have picked up and knitted down after all :(. 
Note: I chose to knit the sleeves from the cuff up so I could control the color of the cuffs.  It didn't even work out that way!  I ended up with strange-colored cuffs anyway!  Here's a pic to prove it: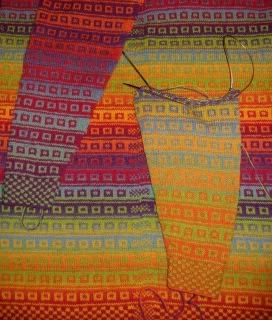 2) I did not like the front bands AT ALL!!  I had spent 12-15 hours knitting the front and neck bands in one piece on 60″ needles (seriously!).  I did not like the band for several reasons: band too wide, neck opening too small, top buttonhole not centered, blah, blah, blah; yada, yada, yada.  My plan was to redo the band completely, even though many, many hours of knitting would be involved.  I wanted the sweater to turn out, of course. I spent most of Saturday evening pouring over my new, improved approach to the band to "fix" all the stuff I did not like about it, but could not come up with a plan. 
Drum roll, please.  I decided to do nothing.  I bound it off and it is blocking at this moment.  I tossed in the towel.  I gave up.  I caved.  I decided that enough was enough.  AND IT FEELS FANTASTIC!!!!  I did not want to spend umpteen hours re-knitting the bands when I wasn't even sure they would look better.  I decided that it was GOOD ENOUGH!  I did not strive for perfection or to be the best that I could be — I didn't care!!  Woo Hoo!  Susan made a breakthrough :).  And, don't get me wrong, I don't mean that I ever get to perfection, but at least I do try to do my best — except for today!!  [Susan is now doing her 'happy dance' around the room]
Here is the Good-Enough Kauni: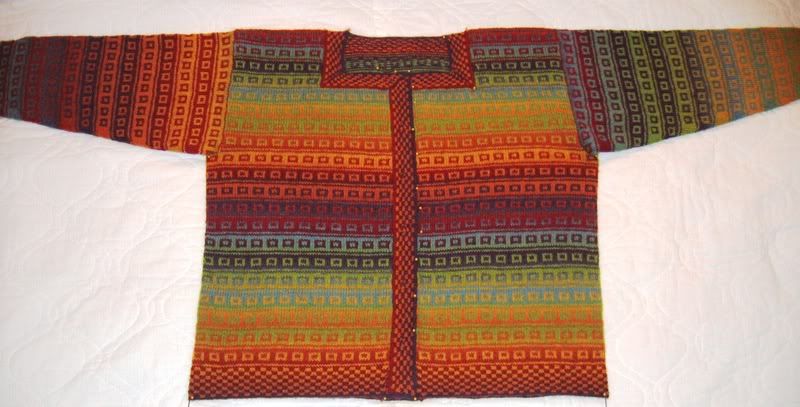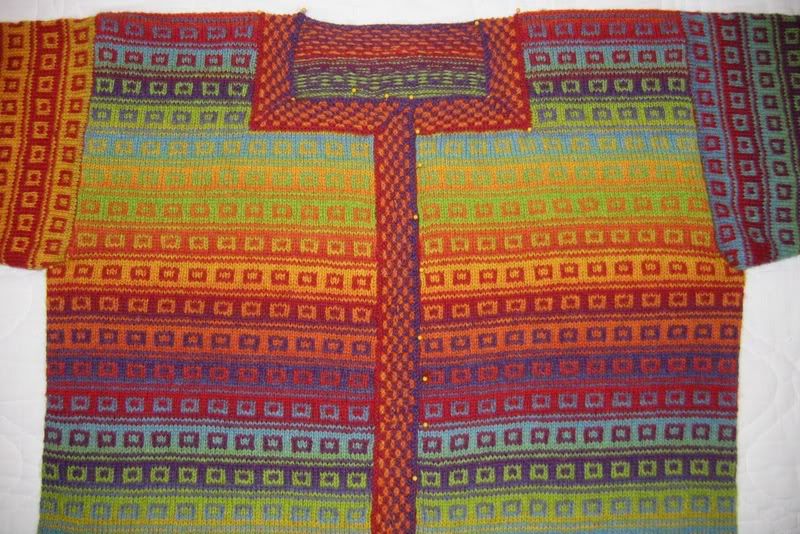 So I am 95% done with this bad boy!  I need to do some inside finishing and find buttons (always a Ruh Roh! ;)), BUT the main part of the Kauni is behind me.  I'll post more pictures when it is off the ground!
It feels so good to be bad! 😉