Remember these little guys — very long on cute!  We mentioned them a while back, reminiscing about a trip to the Wensleydale Longwool Sheep Shop in the UK.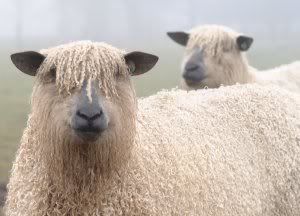 We both bought yarn and patterns at the shop during the Jean Moss Knitting and Garden Tour we did several years ago.  The trip was absolutely wonderful, and this little shop delightful. 
From Susan: I started a sweater quite a while back in the aran weight yarn, in a lovely rosy red.  The pattern is from an OLD Patons Booklet (c. 1996):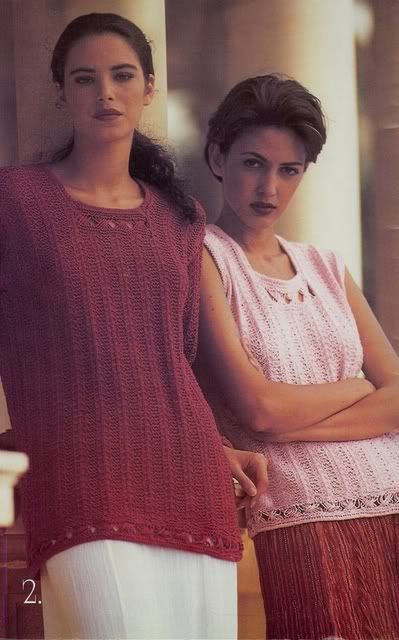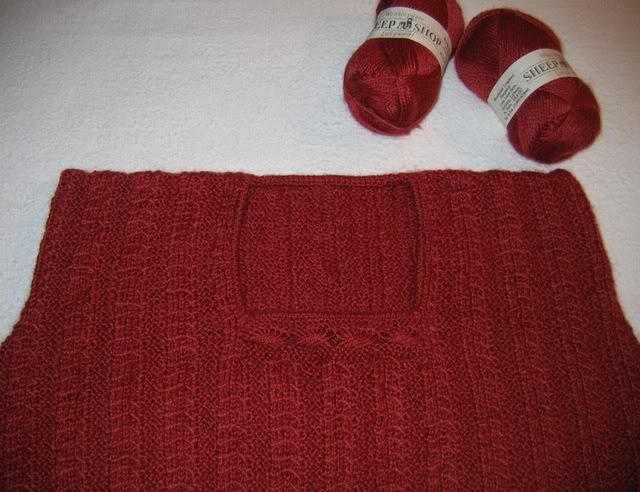 One sleeve almost done, and one left to do.  It is ridiculous, n'est-ce pas?  Even the neckline is completely done!  Every once in a while I re-visit this baby, but it never seems to get to the finish line!
From Sally: She really should finish it, shouldn't she? I mean who would desert a sweater with just one sleeve left? (Ducks and runs.)
I bought some very pretty dark green Wensleydale yarn, but being such a delicate flower of humanity I need to save it for a cardigan. It's a bit too scratchy for me to wear right next to my skin. I did like a number of their original patterns, especially this one:
For some reason (more sleeve avoidance?) I decided to start it. I looked through my stash and chose some "Kid Koigu."
plus
equals
We're certainly not the first to combine Kidsilk Haze and Koigu, but we both love the combination and have knit several garments using the two yarns together. It makes a lovely fabric of 5 to 5 1/2 stitches to the inch on a U.S. 7 or 8 needle.
Here's the beginning of my Cross Lanes.
I'm planning a few minor changes to the sweater: I'll shorten it slightly and do something different at the neck (maybe a mock turtle neck?).
Changing the subject, we had an ice storm last night in the nation's capital. A large tree came down behind us, but fortunately our house and most of our landscaping was spared. I "skated" out to get the newspaper this morning and took some photographs.
PS from Susan — if you can stand another re-hash!!  Here is my Emmeline (from Rowan #28), in "Kid Koigu" to show how gorgeous this combination can be — I love this sweater!