This has been a crazy week with a little bit of knitting, but a lot more "non-knitting."  I really enjoyed seeing the progress that Sally has made on her Silver Belle.  It is absolutely gorgeous. 
I'd like to answer a question from a reader/commenter:
Nancy asked a question about The Sunrise Circle Jacket which she plans to start soon:
I have re-read your blogs about the Sunrise Circle Jacket since I am contemplating starting it in the next weeks. I am hesitant about making it since the facing on the front flaps is so obvious, at least in the pattern. Neither of your sweaters have this obvious line of facing. Is this because you used a dark color of yarn?
Actually, the color of the sweaters is not the determining factor in how visible the facing is from the right side.  It is all about the way the facing is attached to the wrong side of the sweater.  Here is a picture of my Sunrise Circle to illustrate not what you can see but ::hopefully:: what you cannot see:

Lettie likes the Sunrise Circle!!
I make sure that the facing is sewn in such a way that I don't pull up on the sweater fabric as I attach the facing.  I let the facing float on the WS and use thread to tack down the underside of the facing to the WS of the sweater.  The stitching is invisible from both the RS and the WS of the sweater. 
The following diagram will help explain it — we all know that words get confusing.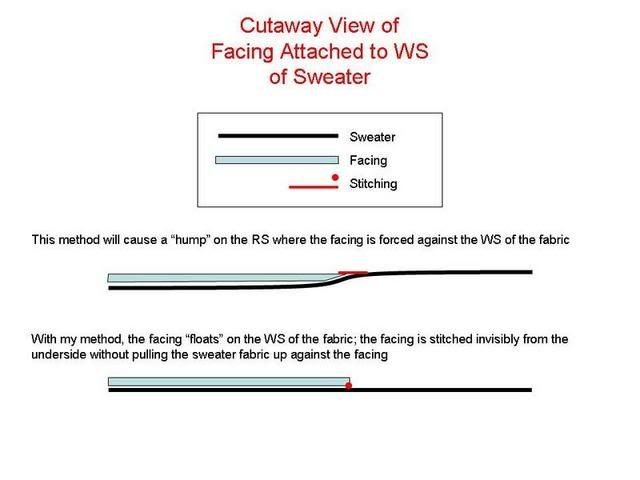 I think the most visible method is the "knit the two edges together" method which is often used on hems.  It is easy and requires no additional finishing BUT it creates a very visible join line — ridge — whatever you want to call it.  This method has its place and I have used it, but do not use it if you are concerned about the visible ridge that will occur as a result.  Just my opinion!! 🙂