I have been out of touch with the world the last few days!  Between soccer, work, and life in general I just have not had the time to write — or anything of interest to write about!
I have also been a bit neglectful of some of my knitting projects of late.  This was brought to my attention by Astrid who commented a couple of days ago about the Lace Style Cardigan.  She had to make a few corrections/changes to the pattern and was thoughtful enough to share them with me.  She did not want me to struggle as she had when and if I got back to this project.  Here are her comments:
A belated Happy Birthday, Susan. What a great present [Plisse]. With that and the Kauni, I don't blame you for being distracted. When (if?) you do get back to the Lace Style cardigan, I have some comments. (Mine is currently being blocked and awaiting final assembly.) First, there is a mistake in the pattern. Also, the collar could use some revising. The mistake is on the armhole shaping for the left and right fronts. Actually, I spent some time figuring out the pattern repeats so that I could work the fronts and back as one piece up to the armholes because I hate seaming. But that is irrelevant. When you get to the armhole shaping for the fronts, after the initial bindoff, the pattern says to decrease 1 st at each end of row 3 times. It should really be decrease 1 st at armhole side 3 times, as is obvious from the resulting stitch count. I was also not pleased with the way the collar came out when I followed the directions to resume the partial feather and fan pattern, so I changed it and worked the entire 18 collar sts in garter stitch. I also thought it looked better with the 3-needle bindoff at the center back of the collar on the public side rather than on the under side of the collar.
Astrid was also kind enough to share a photograph and allow me to share it with all of you: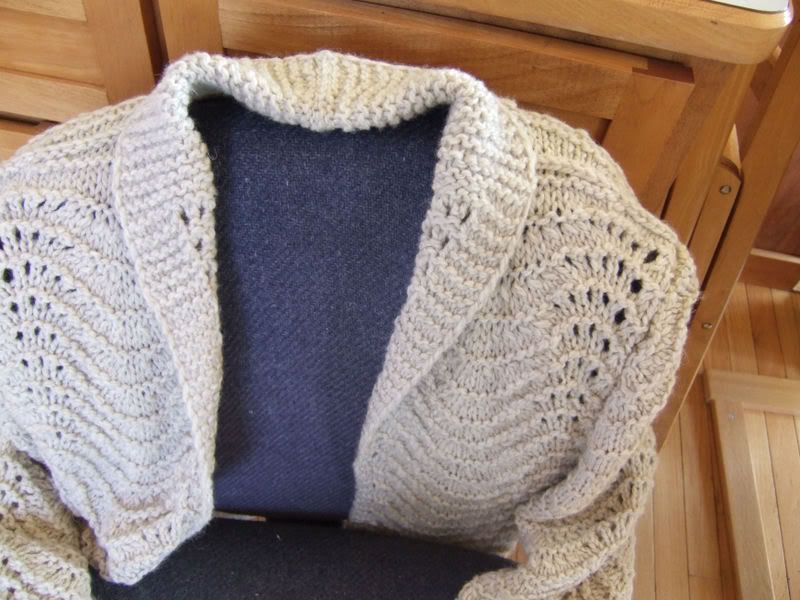 What a wonderful, comfy summer cardigan!  I am re-inspired, My Peeps!  But I just started some other small things and the other big thing and the other big thing needs to be ordered…aaargggggggggghhhh!!  Too little time! 😉