This is the part of knitting that I find exciting when it works ("What a gripping life you must lead.") and extremely frustrating when it doesn't.  All the planets need to align when knitting fair isle stripes:
1) body length = 25-1/2 inches (determines where the armhole steek starts because the armhole depth must be reasonable)
2) sleeve length = 21-1/2 inches (AS has unnaturally short arms and mine are unnaturally long)
3) the start of the sleeve pattern is 100% determined by the armhole placement (last body round before armhole opening = first round of sleeve)
4) the END of the sleeve MUST match the pattern at the bottom of the sweater = the large leaf border plus ribbing.
In other words, the sleeve had to be one exact length AND start on one particular row AND end on one particular row — no substitutions and FEW opportunities for fudging.  And I wanted the sleeve to start at a good spot (the bold red/navy stripe).  About the only fudging I could do would be on the ribbing.  With a pattern repeat of 48 rounds, there is very little wiggle room — any change would add or subtract ~4″ to the sleeve length (though I could maybe stop in the middle of a main pattern repeat — still 2″).
Anyway, all the planets DID align — perfectly!!!!!!!!!!!!!!!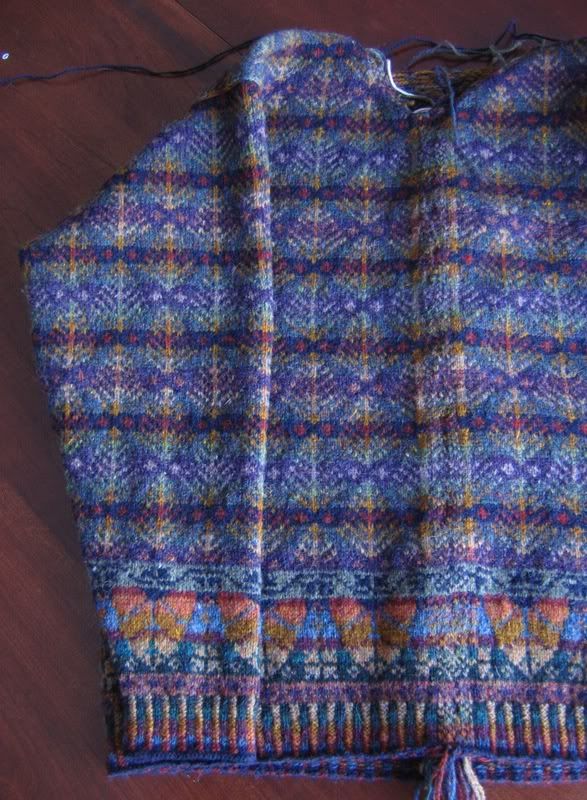 As you can see, the sleeve matches up perfectly.  It is the exact length I wanted (21.5″).  All the stripes match, even though there is an additional repeat in the sleeve to attain length. 
I did adjust the placement of my steek to guarantee that the planets would align.  Thank goodness the shoulder placement did not matter or that could have screwed up the whole thing. 
This background planning is the kind of thing that people don't "see" when they look at your knitting.  They don't realize how much time is spent poring over row gauge and stripe placement and sleeve planning.  But it sure bugs ME when I don't get it right.
Thanks for letting me share the back story.  Non-knitters (and probably 99% of you!) glaze over when I talk about this stuff!! 😉