Back to knitting, you low lifes!  Bloggiversary — is that even a real word? Too much celebrating and not enough knitting.  What kind of a knitting blog is this, anyway?!!?? 
Okay, Okay!!  I have been knitting, really I have!  I have deemed Eris suitable for survival and completion.  It looks okay, the hem no longer rolls and I think it will fit.  So, I will work on the front I-cord edging and get the sleeves started.  They will go so fast and all the hard finishing stuff is already done.  Except for the zipper, which is putsy, but not horrible.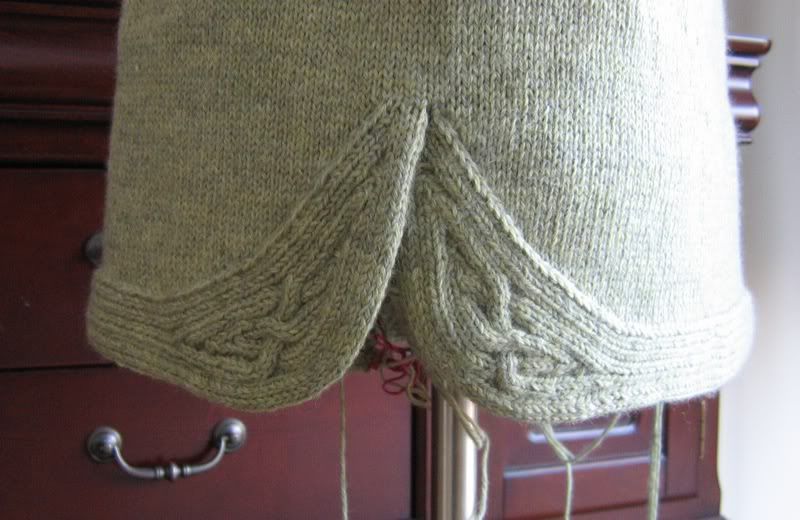 Here's a close up of the overlapping cabled corners — after blocking, I think that's as good as they are going to look.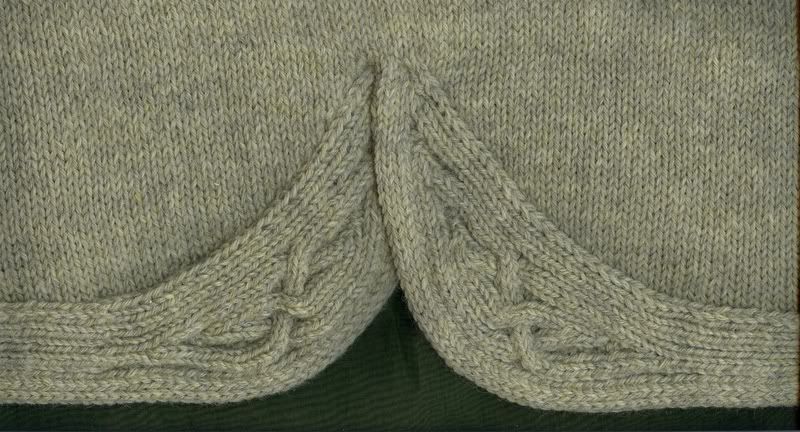 I have also been playing around again with the Woman's Continental — remember GiGi and her fabulous hairstyle?
I had already started the sleeves (one up to the raglan shaping and the other half way there).  Then comes the fun part with the front bands and the collar, etc. 
The front band has a form of brioche stitch, which I attempted to swatch — I had to "SOS" Surly to help me figure it out.  I could not get it to work, no matter what I tried.  The irony is, when Idonis was knitting this, I figured it out for her (?!!??)!  How many brain cells have died since then?  Can dementia be far behind?  Surly said, "It's easy.  It works for me.  Here's what I did."  And, voila, it worked.  It is easy and looks cute.  What are sisters for?
We're glad you enjoyed the contest — thanks again to all for the well wishes and support.  Luv ya.