I am back in knitting form.  Still sickly, but not too sick to knit, thank goodness!  And thanks for all of your well wishes.  It really was nice to get some sympathy from across the miles (I got too little at home!).
On my infrequent travels, carrying around my portable project, I keep getting asked if I'm knitting a scarf – hmmmm, what gives?  Why would they think the bottom of a felted bag was a scarf? 
Yeah, I know.  It looks very weird and not like a felted bag at all!  It will all become clear soon, I hope (noting that crossed fingers make typing difficult).  I'm on the final stages of the knitting but there is a fair amount of finishing, not to mention the double I-cord strap.  So, this is not yet in the "Finis" category.
I also worked a little more on the Lace Style cardigan: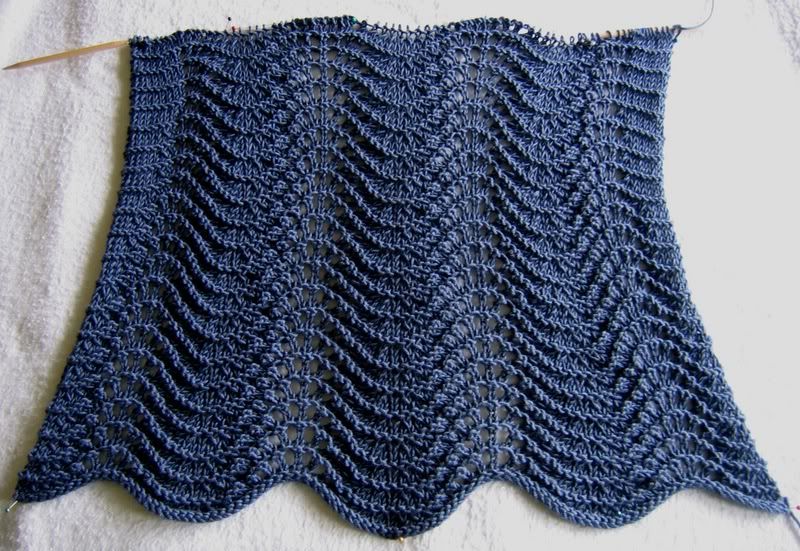 I think I'm to the underarm shaping, but you realize that means a commitment to length ;).  We all know how hard it is to do that, now don't we??  I'm pretty sure I've got it close.
And could I forget My Precious?  Never!  I am now at 22% and on the 5th chart.  I now agree with Surly that my calculation method is fiendish.  It is much better to con yourself into believing you have a magic skein of yarn!! 
If you look at a picture of the shawl's details, you can see where I am in the big scheme — I'm in the middle section of the feathers.
I just got back from Pirates of the Carribbean: Dead Man's Chest.  There's a lot to like and a lot to not like — it's a LOT of movie.  But it was fun.  Now I guess I'll have to go see the other "3's" — Spidey and Shrek.
Have a happy and safe Memorial Weekend.  If you have someone special to remember this weekend, as Sally and I do, please share our warm thoughts for you and yours.