Anyone who says knitting is not like brain surgery has never tried to rip out a few rows of fine lace knitting! 
Late last night I was trying to get one more row in on the Peacock Shawl and kaplooie!  A stitch popped off the needle and the shawl started to disembowel!  I attempted to fix it, but it was nearly impossible — too many yarnovers, triple decreases, etc. and it had unravelled 3 rows back.  Needless to say, I was BESIDE myself!  My lifeline was 16 rows back and I did not want to go back that far, seeing as how I had already done that once this week (true confession time 😉 ).  I knew if I went back to that lifeline, I would put Peacock away, perhaps forever.
So, I decided that I needed to try once again to rip back a few rows instead of going all the way to my lifeline.  This was at 12 midnight, so I was very tired and it was very dark.  But emergency brain surgery waits for no one.
This is a picture of my operating suite in the harsh light of day.  You can see my instruments: scalpels, sutures, magnifying devices, etc.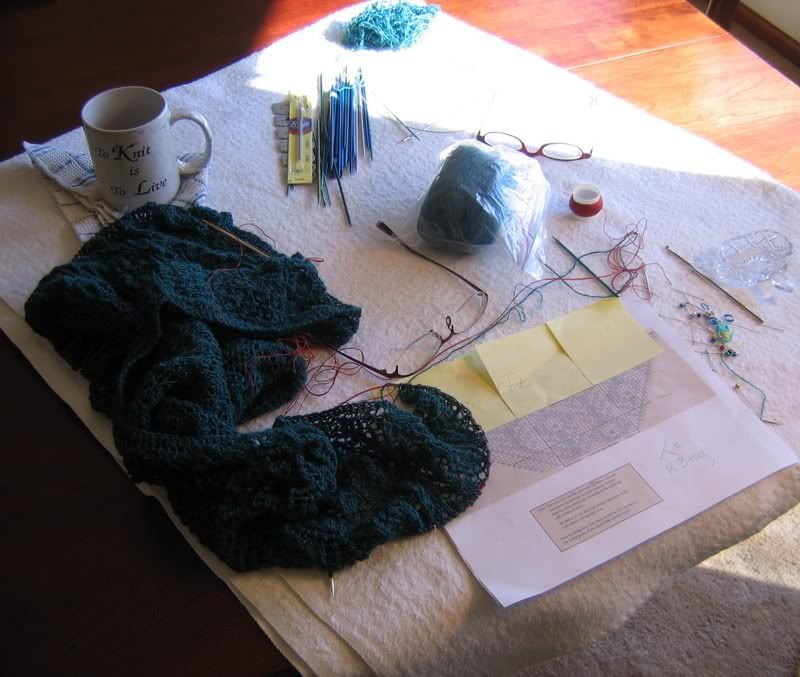 Peacock is being knit on US 4 needles, so I ripped back past the aneurysm (I believe about 5 rows) and used a US 1 needle to pick up the sts as I pulled out the yarn.  I did so in such a way as to be picking up the purled sts, not the right side "lacework" row.  This actually worked better than I had anticipated.  I then transferred each st to the US 4 needle, making sure every st was placed on the needle in the correct position, counting all sts, making sure the pattern was absolutely correct, and replacing all stitch markers.  Whew! 
This morning I knitted the next chart row AND (you guessed it) placed a lifeline!  It was painstaking, but the patient came through the procedure perfectly, though the surgeon is a bit worse for wear!