I am done with the Peacock Feathers Shawl — and it's shawl-tastic! ;)  I finished the knitting several days ago but had not found a "block" of time to actually finish it.  
I am so in love with this project.  Sally said she felt like an alchemist or fairy having created her magical Peacock, and I would love to plagiarize her every word.  But if I can't steal her words, I will say instead that I feel like Rumpelstiltskin — I have turned straw into gold.  It was merino and silk "straw," but you get the idea!  I cannot believe that anyone can do what I just did (and obviously many others before me).  
I have never aspired to knitting these ultra-fine laceweight shawls — why would anyone spend their time on something so impractical?  Something that takes so long to make?  Several years ago a very well-known knitter and expert on cobweb weight shetland shawls (aka wedding ring shawls) was the keynote speaker at Yarnover (unfortunately I do not recall her name).  I was duly impressed with the knitting and the beauty of the shawls, but thought I would never, ever consider that type of knitting.  Never say never — not that this is in the league of those in terms of complexity or effort or skill (though the design surpasses them in elegance and beauty), but to me it feels like it! 
I feel like Rocky jumping up and down at the top of the steps!  Doo-doo-doo..doo-doo-doo…
So, let's look at the blocking of Peacock.  How did I get from this, Peacock in its crumpled state: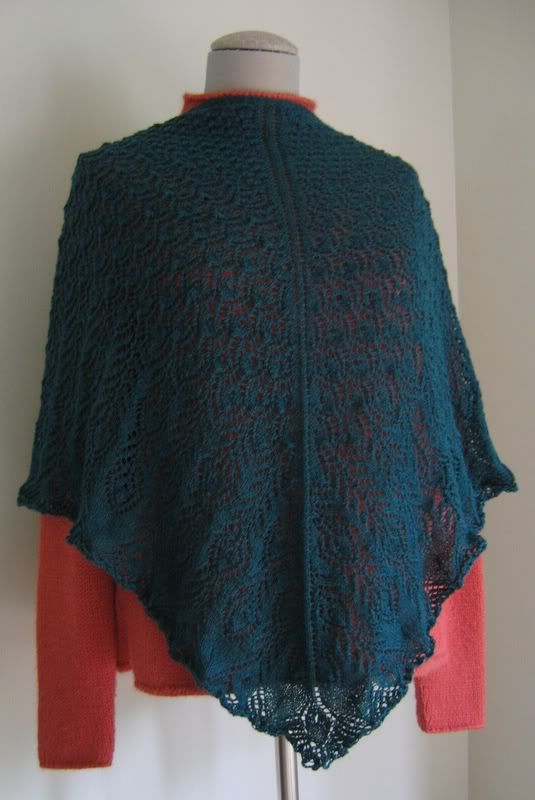 To this: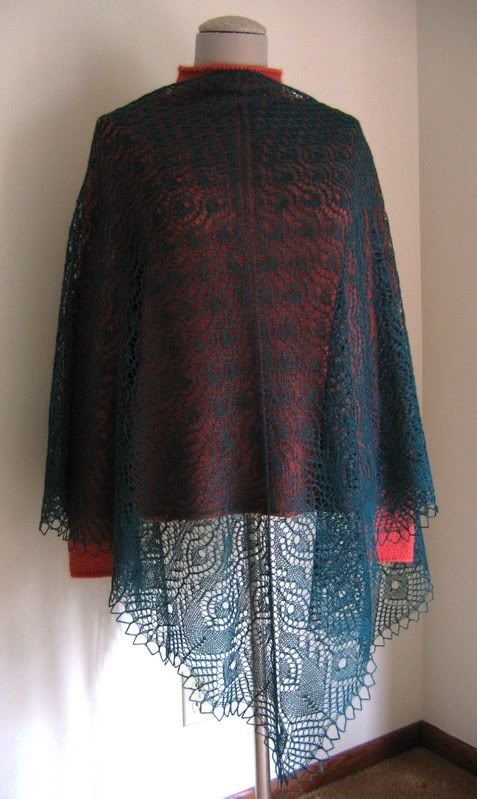 ???????????
First, I started by soaking the shawl in water for 30 minutes.  While that was going on, I set up my floor.  I obviously used old, crappy-looking sheets as a base! 
I laid out an outline of the finished shawl dimensions in string (you can barely see it in the photo).  I did this because Sally said it was a hassle to line up the sides, keep them straight, and measure to make sure everything was even.  Once my perimeter was set, I never had to measure at all, which saved a lot of time and effort.  When I flopped the wet blob of knitting onto the floor, it appeared to me that there was NO WAY I could get it to the given dimensions.  It seemed absolutely impossible! 
Here you see the first step in the pinning process — each feather's eye is pinned at its longest point: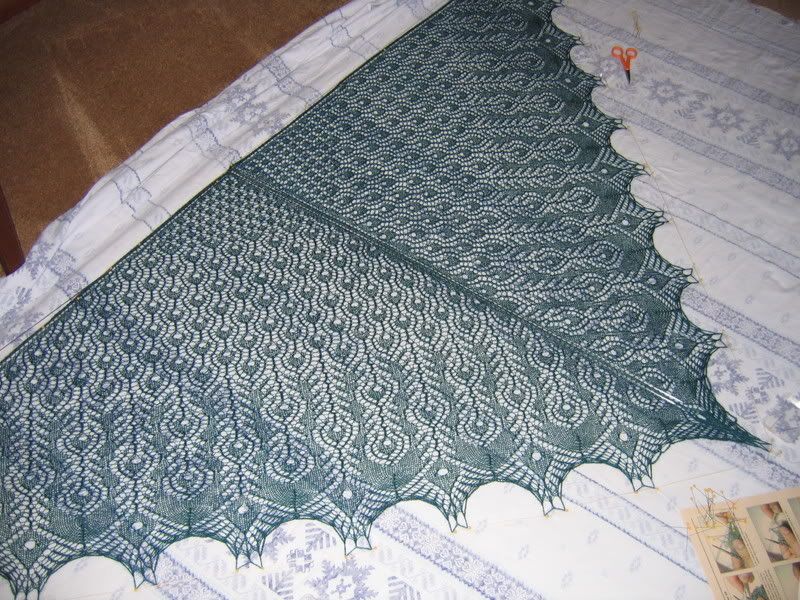 Then I just kept pinning: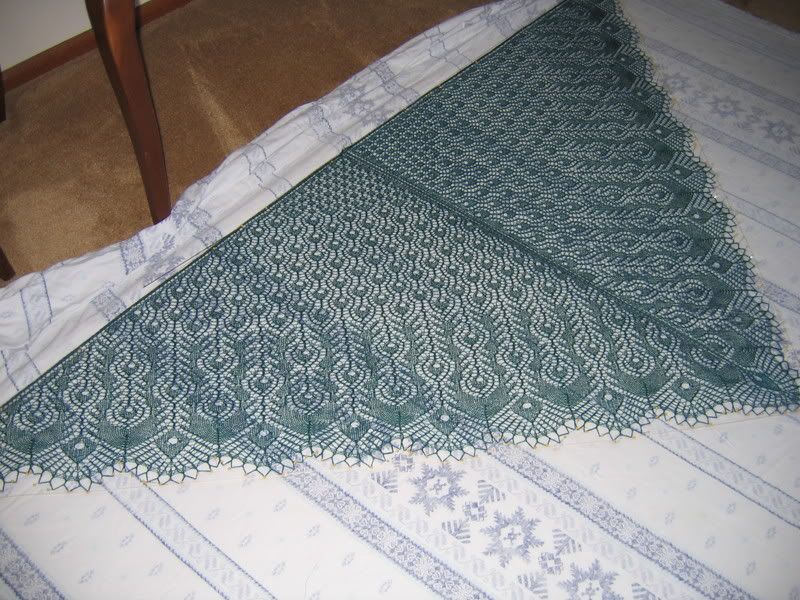 In this picture, you can see my "chalk line":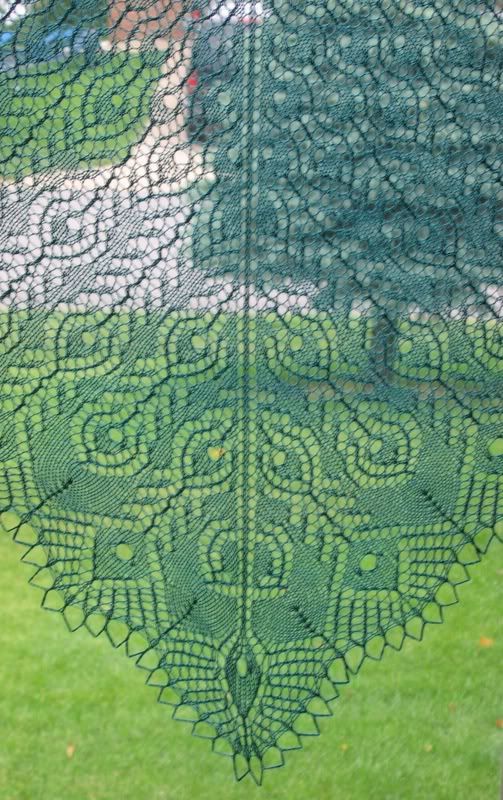 I don't have a dancing daughter to model the finished shawl, but I do like this picture.
Sally said I am her inspiration, but obviously she is mine as well.  I had this pattern for years but may never have tackled it had it not been for her.  To say I am thrilled with the results is the understatement of the century! 
PS — if you see any mistakes, please feel free to keep it to yourself!  It's too late!  🙂
PPS — to Michelle: it took me 6 weeks from start to finish, though I could have wrapped it up faster.  I did not knit exclusively on Peacock and I ripped back a couple of times.  Regarding Kidsilk Haze: I'll defer that answer to Sally, as she has knitted shawls with both Zepher and KSH and can probably comment on substituting one for the other.
From Sally — I'm averting my gaze from the bad puns and just looking at the beautiful shawl. I think you could substitute KSH and it would be beautiful, but you might lose a little bit of the definition of the feathers. On the other hand, you'd get a feathery look from the yarn. I don't find that KSH stretches as much during blocking, though — Zephyr Wool & Silk really blocks out a lot. So, if you substitute KSH, you might want to use a size larger needle than you would normally for this project so that your shawl doesn't end up being too small.