Happy Friday, Everyone!  My knitting is limping along.  I am loving my Kauni knitting: very soothing because it is mindless (and yes, I AM paying attention at the transitions points ;)). 
I am two squares past the armhole steek: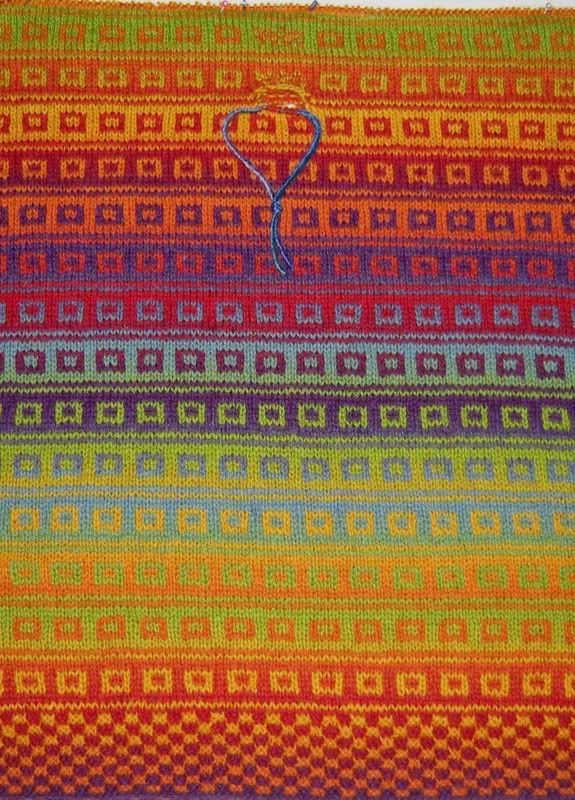 I did pull the trigger on a decision about length.  I placed 8 sts on a holder (yarn) and then decreased 2 sts on each side over the next few rounds to taper the opening slightly.  Twelve sts total are gone on each armhole.  This means the armhole depth can be slightly shorter because you gain ~2 inches across the bottom of the sleeve opening — this will add ~2 inches to the sleeve width as well. I also planned it so the shoulders will fall in the center of a square so double squares do not line up along the shoulder line.  That will make sense when I get there. 
Re: the neckline — I have not decided on a neck, but am leaning toward a square neckline.  I will knit to the shoulders and cut out the "offending section" afterward.  That way no pre-planning is involved and the colors will end where I want them to.  If I steeked the neck opening, the color transitions would get longer from that point to the shoulders.  Many Norwegian patterns are knit this way: they often just knit to the shoulders and cut away the neckline.  I will use the garter check around the neckline.
I am hoping to get something done with this over the weekend.  I have 2-3 projects singing their siren song and am anxious to move along to the next ;).  Unfortunately, two of those projects could be classified as summer knitting — my timing is WAY off!!