This picture shows the Hemlock after steaming.  It still does a little of the typical feather and fan ruffling, but it looks much better.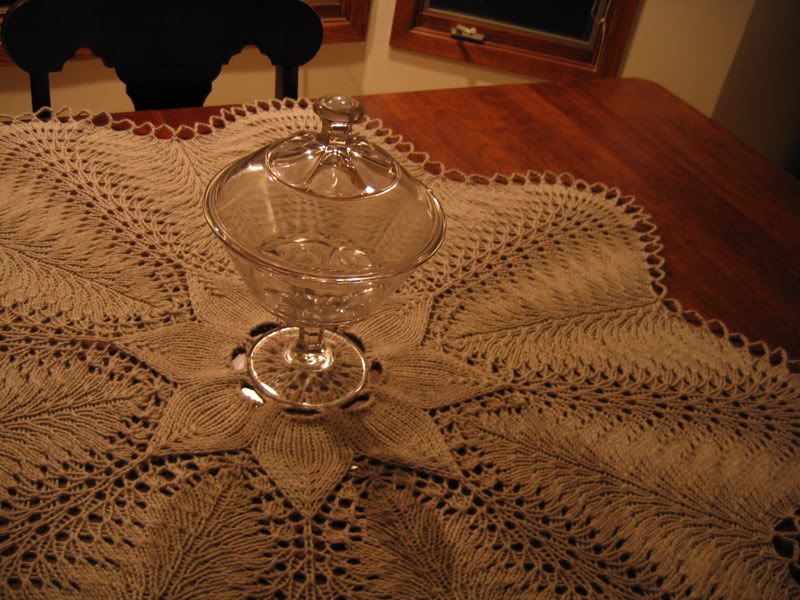 I may need to make me one of these
.
And in response to Bonnie and Thomasean: This isn't a stupid question at all — I just thought it would be too complicated to describe, but here goes!!
When you look at k2tog [ssk] for instance, the sts that are actually crossed are from the row BELOW the action of knitting the 2 tog [ssk].  On the row when you k2tog or ssk, the crossed sts will appear right below the needle.  The st on the needle is a normal looking st.  If you worked a k2tog [ssk] and counted the first plain st above the "crossed" stitches and the row on the needle, you would be counting an extra row of plain knitting because the first st was "zero" — it was created when the sts were decreased.
With a yarnover, there is not a st on the row before because you are essentially creating a new st with the running thread between two sts.  On the row when you make a yarnover, all you see is a hole with the running thread carried over the needle.  The first row worked after a yarnover is the first real st created and so there is no "zero" row as described above.
Whew — my brain hurts!