My second Hemlock is totally done.  This picture actually looks far better than it looks in real life!! A couple of you had questions.  The Hemlock Throw was knit in Cascade Eco Wool (250 grams, 478 yds).  The oatmeal version was knit in Color 8016, the teal is Eco Plus in color 8462.  I started each with US Sz 10 dpns and switched to 10-1/2 circulars when I could.  Why did I change needle sizes?  Because I don't have Sz 10-1/2 dpns!  It takes less than 2 skeins to make a throw — you could make two of the same color with 3 skeins.
I am making my personal throw out of Berroco Peruvian (100% Highland Peruvian Wool, 100 grams, 174 yds), Color 7137 to match my LR sofa: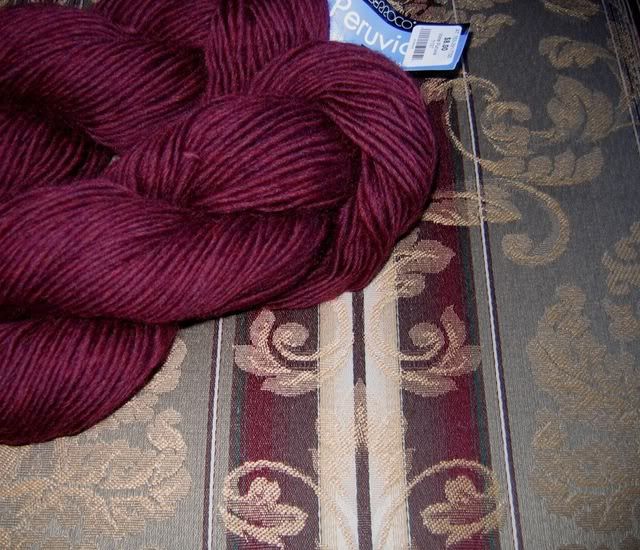 It takes 2.5 skeins of Peruvian to equal 1 skein of Eco Wool so I bought 7 or 8.  It is like butter and a little fuzzier — I hope it works.
I have not used a lifeline in the Hemlocks — it is much bigger knitting and even though I have had to rip a couple of times, it is NOTHING like ripping out a fine lace shawl with hundreds of sts!
Re: The Betsy sweater (see Sally's post) — I found the book on ebay and bought it on the spot.  Woo Hoo!  Thanks, Ann.
  Our blog-tectives are the best in the land!
PS — another question: I used the Emily Ocker cast on to start the Hemlock.  Also, if I sent you a copy of my pdf file of the pattern, there is a mistake on Rnd 46: k9 not 10.
Another question came up; What does (O, k1) x 8 mean?
Response: at the start, you cast on 8 sts and divide onto 3 (or 4) dpns.  After working a couple of plain rnds of 8 sts you do the (O, k1) x 8.  The pattern is telling you do do a yarnover before every single st. 
To do the YOs before the first st on the dpn: insert new dpn into 1st st as to knit, bring yarn around the needle from the front (not from the back as you normally would). 
This creates a new st before each st — so there are now 16 sts.  You do the YO before the first stitch a couple of more times in knitting the small medallion in the center of the petals.  Once you have enough sts to change to a circular, it does not seem as strange.