Gas is $3 a gallon and going up, the housing market has bottomed out, they are talking recession — so, what do I do?  Buy yarn, of course!  And not just ANY yarn — yarn I already have!
I am talking about Kauni Rainbow.  I was nearing the finish line with my first Kauni Cardigan and then was gobsmacked by the Damask version.  I bought two more huge skeins of Kauni yarn (and I hope it is enough: cross fingers and toes!). 
It arrived today from Wollsucht and was already wound onto cones — very nice presentation.  It inspired me to dabble in a little creative stash maintenance, holiday style:
Ah-h-h-h-h, see the festive cones hidden in plain sight!!  How do I think I'm going to finish a second Kauni when I haven't even finished the first??  A true knitting mystery.
Speaking of knitting mysteries: why did I start a new project?  I have plenty of knitting already under way!  I picked up the Lopi yarn I ordered from Needlework Unlimited for this little gem (bought during the Shop Hop):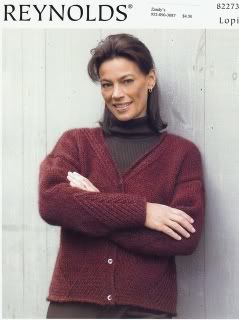 and thought, "This is a quick knit.  Maybe I can whip this out and not even miss a beat!" 
The color is actually a very pale grey (Lopi 054) — not so beige as the picture.  It is kind of a quick knit, but really.  What about Lyra, Plisse, Kauni, Homage — the list goes on and on.  I feel conflicted!!
I know a lot of knitters suffer from start-itis, but that doesn't make it right! ;)  This is a nicely written pattern and I hope to finish it quickly so I won't be diverted too long from finishing Lyra, Plisse, Kauni & Kauni, Homage….etc.!  I'm outta control!