Thanks for all of your fabulous comments about the Kauni.  It did dry, and I did finish the inside edges.  I tried it on and the neck isn't as tight as it was before blocking, so it will be fine.  It will be a wearable sweater with jeans and turtleneck (gee, that's a new look for me!).
Here is Lettie doing the modelling.  I know, I know — maybe I'll add a picture of me in it later with buttons ;). 
And the back: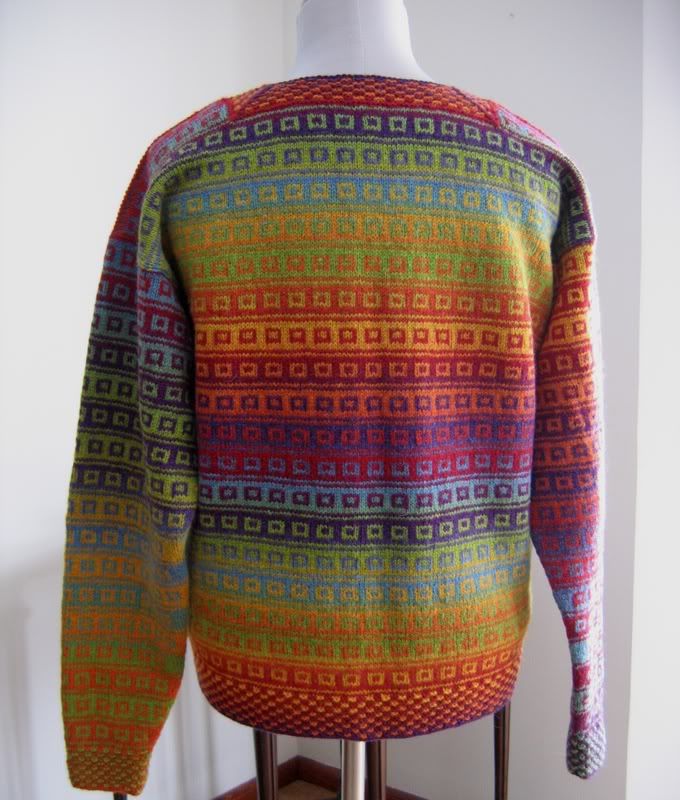 Marina asked me about why I grafted the sleeves and how — here is the response I sent her:
Warning: Esoteric knitting blather ahead
The mattress stitch I tried using to sew the sleeves in just did not look right.  So I decided to try grafting the sleeves in instead.
Looking at the right sleeve as the example, I ripped back to one row after the red squares (a yellow row).  I picked up around the sleeve opening with red, and then used yellow for my grafting yarn.  This created the second row of yellow after the red squares.  When I picked up around the armhole, I used a size 5 needle instead of the 4's I would have used for the straight knitting portion (I switched between 2 needle sizes throughout my Kauni: 4's for the single color rounds and 5's for the stranded rounds).  I did this because the stitch was going through the fabric and I wanted the red line to be visible.
The button quest will now begin…dum de dum dum DUM!!