From Susan
Here is my finished Great American Aran Afghan.  I used Cascade 220 instead of Encore.  Cascade 220 is 100% wool, but extremely soft.  They don't call it merino, but it sure feels like it.  I found that the quality of my knitting was much better using the wool yarn — and I prefer wool to other fibers — especially those that are man-made.
I knitted every square as each Knitters Issue came out.  I also blocked each square individually as I finished it.  It made them look so much nicer — I hated to look at them all "blobby" before blocking.
My sweater square came out in the last issue, with the construction details and border (designed by Rick Mondragon).  I had the pattern for the final square obviously, so I finished the afghan except for the border before the last issue appeared.  I did not have enough yarn to do the pattern as Rick designed it, so I opted for a simple eyelet border (pattern link after the individual squares).  Sewing them together was of course part of the challenge!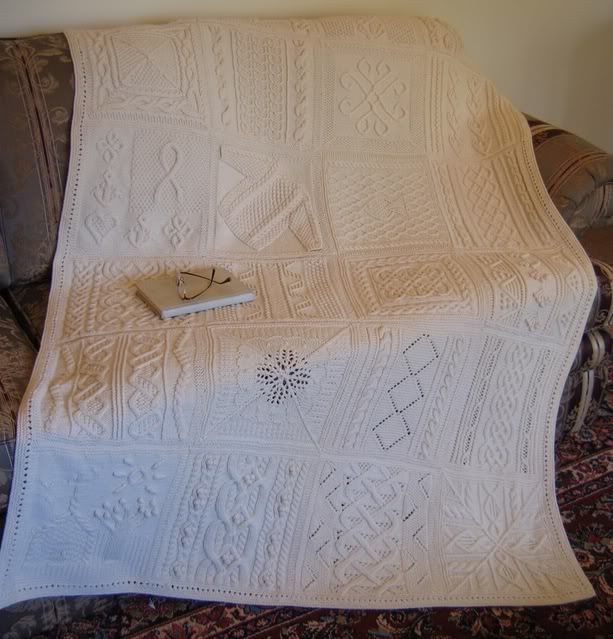 Here are pictures of the individual squares listed by the designer's name:
Ada Fenick Square — this square is so beautiful.
Ann McCauley Square — my aversion to bobbles did not prevent me from knitting this square "as is."
Ann Strong Square — the seed stitch is very pretty here.
Barbara Selesnick Square — this square is another with lots of sentimental meaning.  I really had trouble hitting the gauge here and had to add an entire pattern repeat.
Betty Salpekar Square— the most difficult square.  Betty, what were you thinking?  Betty uses some techniques that should be banned!
Carol Adams Square — this simple looking square is very cool because it is reversible!
Dagmara Berztiss Square — this one was fun, but my gauge was again the culprit and caused me to do extra mental work with adjustments.
Dana Hurt Square — nothing notable to mention here except that the center cable of this square is identical to that of the Barbara McIntire Square (which came out later), so I knitted this one and made a substitution for the McIntire Square (sorry, Barbara).
Georgia Vincent Square — people who know me know I have a thing about large bobbles — I do not like them on my knitting.  I removed the bobbles here and on the Jay Campbell Square.
Ginette Belanger Square — this is a lovely square, but whenever I look at it I think of the Movie "Aliens."  I'm sorry Ginette!
Ginger Smith Square — Ginger designed this to be knit in strips, joining each strip to the next as you go.  An interesting technique, but I opted to do it all in one piece.
Hanna Burns Square — I had to add a lot of knitting to this square!
Janet Martin Square — by far, my favorite square to knit!  I loved the fish.  The only thing I changed was the direction of the cable twist — real rope twists the opposite way.
Jay Campbell Square — bobble aversion alive and well with this square.
Judy Sumner Square — this square was fun to do.  The trouble I had was doing the "web." For some reason I had to rip it out a couple of times.  The bugs were fun, but I was a little grossed out by them.  They blend into the whole afghan so they aren't as gross.
Julie Levy Square — this was the first square I completed.  I knitted it first in Encore (the company gave me 20 skeins as part of my "winnings"), but it didn't look that great.  Someone in my knitting group said, "Why don't you knit it out of something else?"  Yeah, why don't I?  So I re-knit this square in Cascade 220.
Kathleen Carty Square — this square was the first of the really difficult ones.  Its construction is unusual and you need to do some intricate grafting.
Marian Tabler Square — the original instructions for this had an error, but I did not notice: I just followed the pattern in the knitting, not the written page and so mine worked out.  I assume they corrected the instructions in the book.
Meredith Morioka Square — I misread the instructions and used too large a needle size.  My square was HUGE!  All my other squares are a bit smaller (11″ instead of 12″).  This square was 13″ so I never thought it would fit right in the afghan.  I did not feel like re-knitting it, so I left it as is.  It worked okay.
Patt Tanton Hewitt Square — this square was difficult, too: you need three dpns in some places and it is very bulky.  It is very attractive.
Susan Rainey St. Brigid Square (substitution) — this is the square I substituted for the Barbara McIntire Square.  My inspiration is an A St*rm*re design and elements of Barbara's square.
Susan Rainey Winning Sweater Square — my sister told me I could win if I entered my aran sweater idea.  She was right!  I started out with a different approach, but was led to this.  I won 20 skeins of Encore, a year of Knitters, 5 books (I gave Sally two of them), and $500.  It felt like I won an Oscar!
Suzanne Atkinson Square — the squares that are representational were the most fun to knit!
Vicki Sever Square — The Breast Cancer Square.  This square took second place and I felt bad that my square had so little sentiment.  This square represents the hope and faith of the cancer survivor, and the love of family and friends.  I had to add both sts and rows to get to the correct size.
This link will take you to the posts for this project.  All of the posts were written post hoc, as I was not blogging back then.  It describes the surgery I needed to do to fix a hole :(.
The next link will take you to the directions I wrote up for the eyelet edging I used on the afghan: